Life on Queensland's Gold Coast, is truly beautiful one day & perfect the next (just like it said it would be in the advert).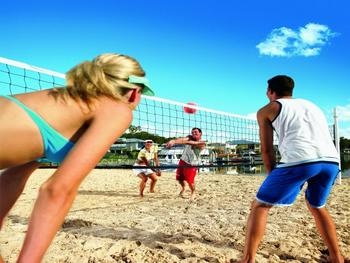 The Gold Coast is Australia's playground & is pack full of fun things to do, other than just the theme parks, the Gold Coast offers world class tennis courts, golf courses & hundreds of beautiful rainforest walks. You name it GC has it!

Plus if you are like me & love the water, the boating, diving, fishing & the surf beaches... are the best in the world.

On the GC, "the boardroom" is a place with surfboard racks, not conference facilities.

Stradbroke Island's 15 min by boat & the GC is home to the very appropriately named, Dreamworld.
Instead of the busy traffic sounds, there is the sounds of waves crashing in the distance to lull you to sleep at night.

Of course if you want to party, the glitter strip is pumping every night... but be careful, the GC can be "a sunny place... for shady people"!!!

One of the things I love most about the Gold Coast is their answer to the problem of expiring parking meters....

The gold bikini clad Meter Maid.
Check out the look on this kids face, I know exactly what he is thinking.
"When I grow up I want to live on the Gold Coast!"